Over the May Bank Holiday weekend Hookedblog caught up with Spanish based artists Remed and Okuda who were invited to London's Southbank by Campo Viejo to take part in the Streets Of Spain festival. This is the second year both artists have been invited back to paint by the Spanish wine company and were challenged to create "an original piece celebrating the colour, life and vibrancy of Spain through the medium of paint."

A custom made perspex cube was constructed for the artists to work on over the duration of this annual four day fiesta of Spanish food, wine and art. With the sun making an appearing the festival was extremely busy when we stopped by on the Sunday, with the crowds of passing tourists and Londoners peering in watching as the two applied their vibrant imagery to the clear walls from inside. The works were seen by the public from the other side of the perspex cube which meant the artists had to work in reverse, slowly applying the last layers of paint first and building up the other layers of colour on top of it to create the finished pieces.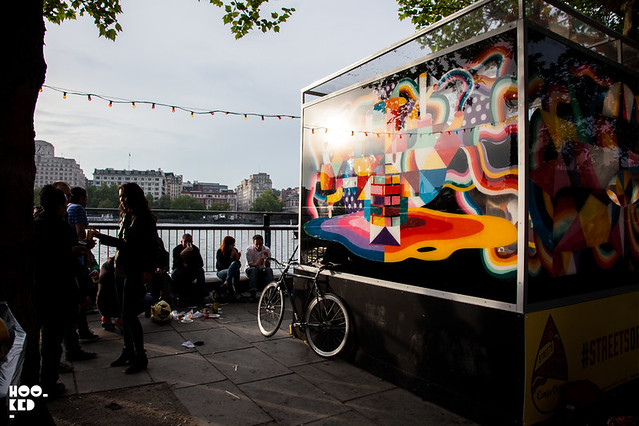 With works on the cube finished we hit up some of the stalls at the festival to sample some of the foods and Campo Viejo wines on offer with our guides Okuda and Remed, who after four days had sussed out one of the best places for food at the festival, a Barcelona based restaurant by the name of El Quim de la Boqueria who were serving delicious Quim Crab and mini Wagyu burgers. Perfect finish to a fun afternoon.